The Essential Pipe Band Drumming Products
I have been drumming for nearly 30 years and have played almost every product on the marketplace. Simply, I play products that deliver consistent results and are readily available. Here's some great products below that you may enjoy
The Guide to Pipe Band Drumming, Volume 1 & 2
Over 140 pages of Structured Scottish Snare Drum Instruction eBook (in PDF format)
Over 100 Audio tracks performed by James Laughlin to accompany the E-Books (in MP3 format)
An email with the download link to download your digital book and MP3 collection. The book can be viewed on any computer or digital device.
Who uses the Guide to Pipe Band Drumming Program?
Beginner, Intermediate & Advanced Drummers
Tutors wanting to utilise a thorough and detailed resource to teach from
Drum Kit & Percussion Professionals
Pipe Bands and School Organisations
Want to know more about the content?
Volume 1 : Step-by-Step instruction to master the basics of Pipe Band Drumming
14 individual chapters
Basic Drumming Rudiments - Doubles, Paradiddles, Flams
Intermediate Drumming Rudiments - Drags, Swiss Ruffs, Ratamacues
A collection of Scottish Snare Drum Rudiments
Volume 2 : Master the advanced techniques of Scottish Drumming.
Rhythm - Here you will work through 13 pages of solid rhythmic development
Phrasing - Now you can develop your feel & flow with 20 pages of intense Phrase Workouts
Technical Execution - Now for the biggest challenge, 30 pages of the toughest rudiments in drumming
Customer Reviews
"Instant Download, Instant Gratification. I love your fun and extensive approach to Scottish drumming. This is BY FAR the best educational tool on the market. Thank YOU!" - Mark Lawson, Scotland
 "I just downloaded "The Collection" and I have to say there is some serious hours of practise in there to be done. Magnificent work mate with this Vol and I cannot wait to hook in." - Jeff Tailor, Australia
 "Excellent book, and I'm glad you recorded MP3s of all the exercises within the book. It helps that little bit more with my sight reading and it ensures that I'm playing things in the correct manner."  - Rob Reynolds, United Kingdom
 "Thanks for releasing such an awesome compliation. I will be taking it along to all of my drum corps!" - Don Wilmot, USA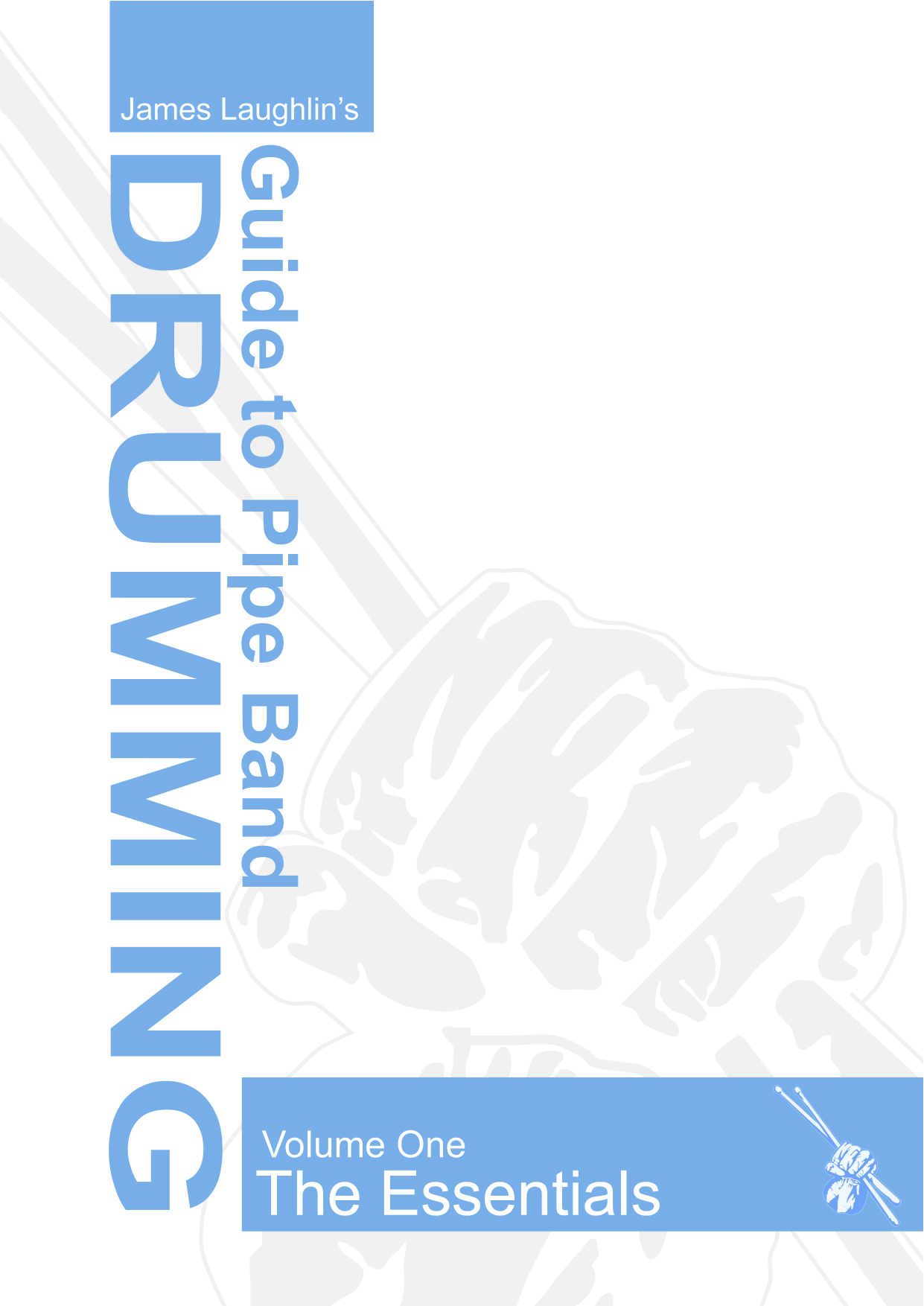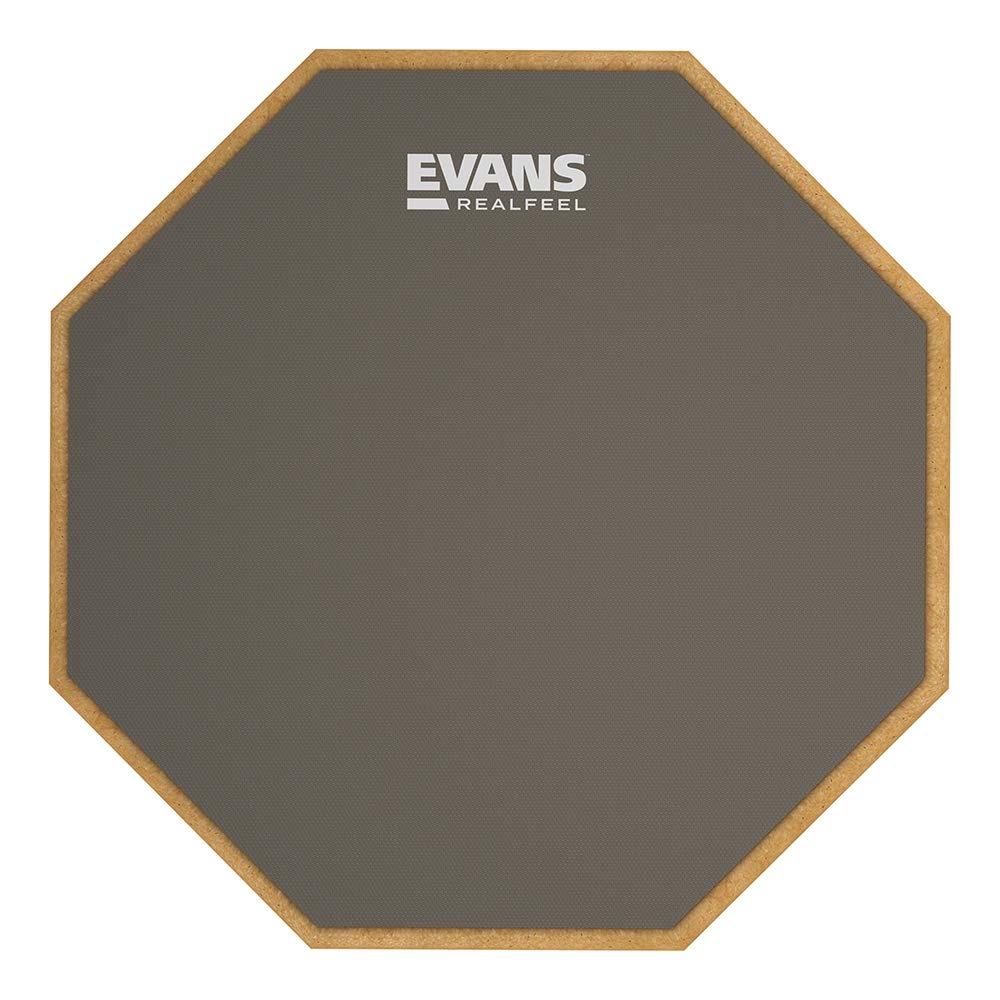 Evans RealFeel 2-Sided Practice Pad, 12 Inch




PRACTICE ANYTIME, ANYWHERE - Evans RealFeel Drum Practice Pad provides the best practice substitute to acoustic drums, so you can practice rudiments, paradiddles or just drum along to that song on the radio – without disturbing anyone. Portable and quiet, it works on any surface including carpet, table, lap or inside a standard snare basket.
TWO-SIDED DRUM PAD – The two-sided design of the practice drum pad gives you options for the type of practice you are doing. One side features a slightly textured natural gum rubber for realistic stick rebound. The other side features a harder, firmer recycled rubber with less rebound for a real practice workout.
AVAILABLE IN 3 SIZES – A variety of RealFeel drum practice pads are available to suit individual practice requirements including a 6" practice pad, 7" apprentice practice pad and a 12" practice pad (not mountable).
DRUM PADS FOR ALL DRUMMERS - From the beginner practicing in the back of mom's car on the way to lessons to the professional practicing on the tour bus, RealFeel practice pads suit every player's practice needs, no matter how demanding. The natural gum rubber side is finished with a dark gray fabric that resists wear and tear.
MADE IN THE USA - For over 40 years, Evans has been a pioneer in drum head manufacturing and design. All RealFeel practice pads for drumming are proudly designed, engineered, and manufactured in the USA to the most stringent quality controls in the industry.
Remo ST-1000-10 Practice Pad Stand








The best way to practice is standing up. It's better for your back and your posture, not to mention the fact that you stand up when you perform on a drum.
This Remo pad stand is simply awesome, and very sturdy unlike some of the cheaper, flimsy options. I've had mine for 15 years and it is still in excellent condition.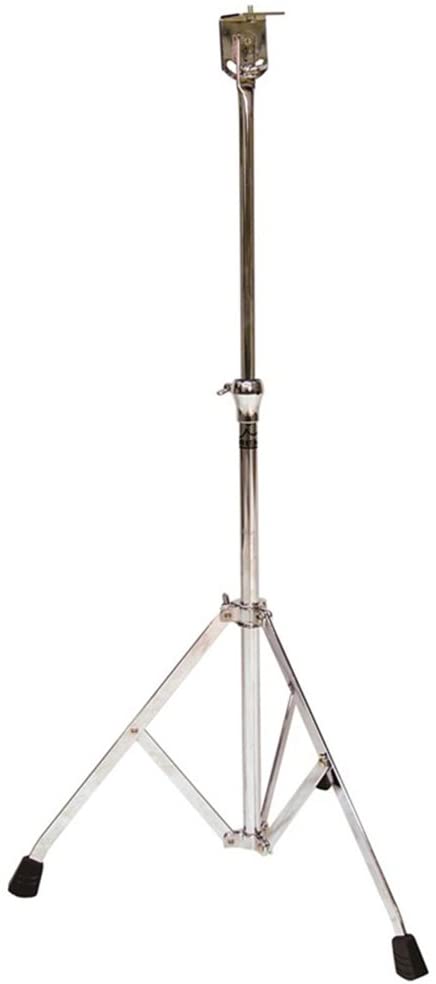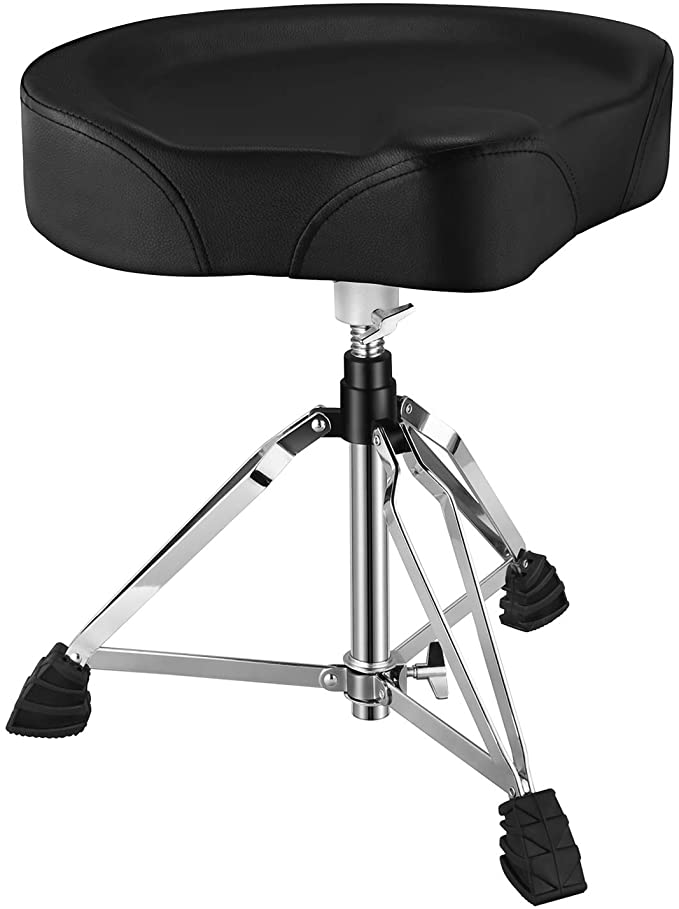 Donner Adjustable Drum Throne, Padded Stool Motorcycle Style Drum Chair
Widened Seat: Designed widened seat which is perfect for people of different weight
High-Quality Pad: The seat cover is made of soft and high quality artificial manufacturing leather, and the pad is filled with premium steel and foam, which make it comfortable and durable
Anti-Slip Rubber Feet: Adopting thickening rubber feet, the drum throne offer you a solid support when you are sitting on it
Double Braced Leg Base: The drum throne is stable and durable with double braced leg base, and it is also distortion-free while holding people of heavy weight
Adjustable & Durable Lock: The drum throne use thickening lock to make sure that it's easy and quick to adjust the height, and it can better prevent the drum stool from sliding down.
Logitech BRIO Ultra HD Webcam for Video Conferencing, Recording, and Streaming - Black


This has been the perfect addition to my drumming tools - as so many sessions are now on Zoom or Skype.
Spectacular video quality: A premium glass lens, 4k image sensor, high dynamic range (Hdr), and autofocus deliver beautiful, true to life video
Look great in any light: Right light 3 automatically adjusts exposure and contrast to compensate for glare and backlighting. Supports multiple connection types, including USB 2.0 type a and USB 3.0 type a and C connections
4k streaming and recording windows: Works with camera for windows 10, xsplit, obs. Mac: Works with swift capture. Windows hello certified: Powered by both optical and infrared sensors, BRIO delivers fast and secure facial recognition for windows hello. No need to type a password for windows 10: Simply look into BRIO's lens to login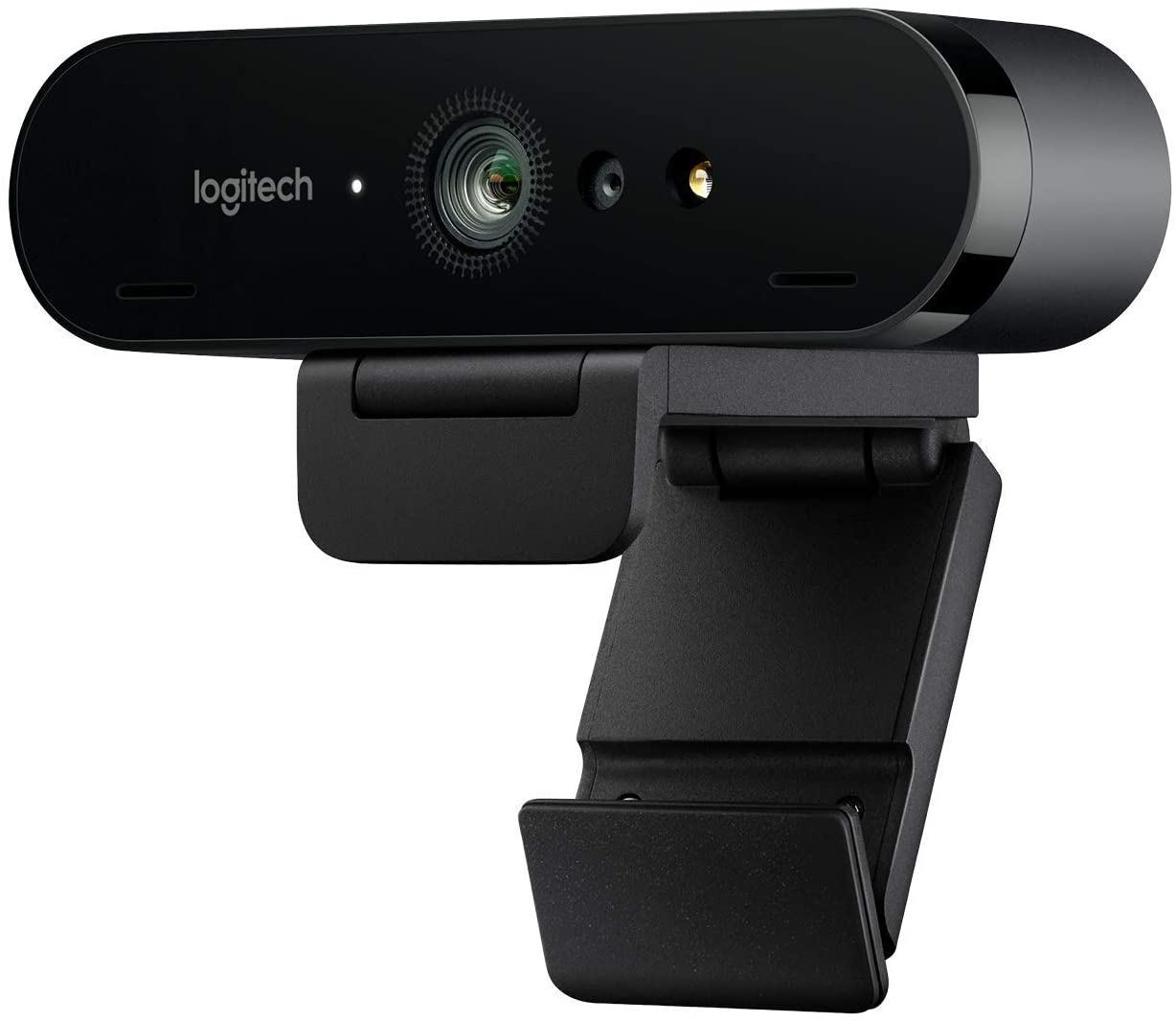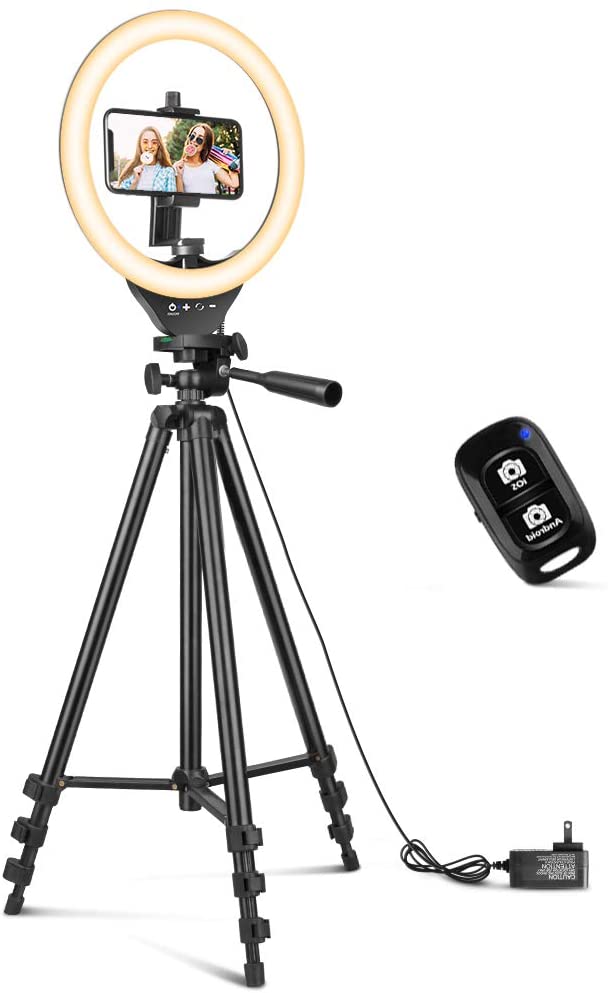 10'' Ring Light with 50'' Extendable Tripod Stand, Sensyne LED Circle Lights with phone holder. Compatible with All Phones.




Even though its a tiny investment, it makes such a HUGE difference to your drum lessons.
A must-have for all drum lessons.
Blue Yeti Nano USB Microphone for PC & Mac






This little mic packs a big punch. It has made my audio quality for all drumming-related tasks much better.
I also use it for my podcast recordings too - it simply plugs straight into your computer/laptop.